Dựa trên nền tảng truyền thông media qua điện toán đám mây (media cloud), chúng ta hoàn toàn có thể phát triển một giải pháp dịch vụ cho hệ thống khách sạn thông minh và đẳng cấp hơn – Smart Hotel.
Sử dụng công nghệ truyền thông media điện toán đám mây và hệ thống đám mây OTT tiên tiến để nâng cấp cho khách sạn trở thành thông minh và cao cấp hơn với các dịch vụ giải trí và cung cấp thông tin qua internet dễ dàng, được phát triển trên thiết bị đầu cuối dựa nền tảng Android.
Với giải pháp khách sạn thông minh Smart Hotel sẽ giúp cải tân cách cung cấp thông tin và mang dịch vụ tới cho khách hàng một cách thông minh hơn, nâng cao về đẳng cấp (level) dịch vụ và tiêu chuẩn khách sạn thông minh, khẳng định cho khách hàng cơ sở vật chất và ý tưởng quản lý khách sạn về thứ hạng của khách sạn, dễ dàng cung cấp thông tin về các tour du lịch chất lượng cao, vui chơi giải trí tuyệt vời nội dung hài lòng, dịch vụ tỉ mỉ và chu đáo, cung cấp các dịch vụ giá trị gia tăng như VOD.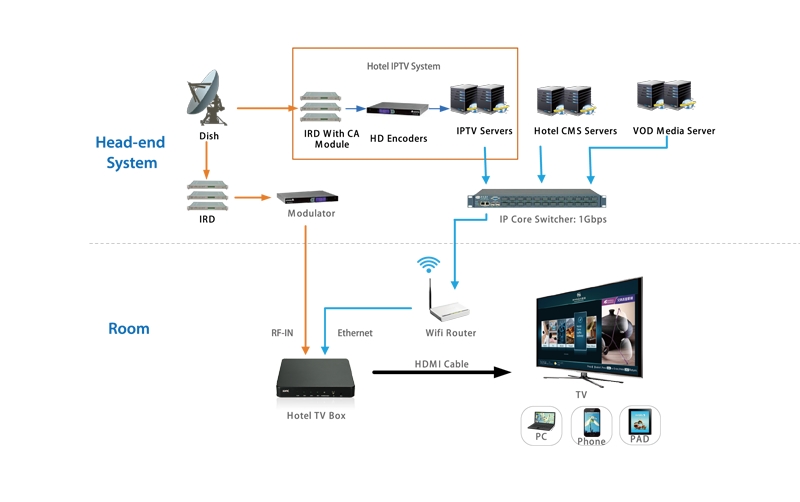 Sơ đồ cấu trúc hệ thống giải pháp khách sạn thông minh Smart Hotel
Tổng kết:
– Kiến trúc điện toán đám mây, hệ thông cloud có thể quản lý và điều khiển các thiết bị đầu cuối thông qua hệ thống upgrades phần mềm online, cập nhật phim thời gian thực, cập nhật thông tin khách sạn, thông báo tin nhắn tức thời, truy vấn người khách hàng quảng cáo, etc.
Nó bao phủ đầy đủ các thông tin về văn hóa, vận chuyển, giải trí, mua sắm, làm cho khách hàng và cuộc sống hàng ngày nhận diện thông tin dễ dànd trực quan, dịch vụ khách sạn tinh tế, đã cho khách cảm giác thẩm mỹ
GIỚI THIỆU CÁC DỊCH VỤ ADD-ONS TRONG GIẢI PHÁP SMART HOTEL
Greeting
Once interaction with Smart Hotel system is initiated, guests are welcomed by "Welcome Screen" with their registered informations, and they start to select language. Besides, Smart Hotel-TV may send and show congratulatory messages for guests' special events such as birthdays or wedding anniversary. Such warm greeting certainly bring first impression to guests.
Main Display
The Smart Hotel-TV system is designed with highly modern and user-friendly interface, consistently on all of the system's menus. The main menu shows all the services offered, whose appearance positions and functions are customizable according to request by hotel/resort. In addition, the information bar on top of the screen displays the logo and information to promote the hotel/resort's brand, as well as local time and weather information. On the footer bar, Smart Hotel Solution allows to broadcast messages, event notices, promotion programs and other service information to your guests conveniently and effectively.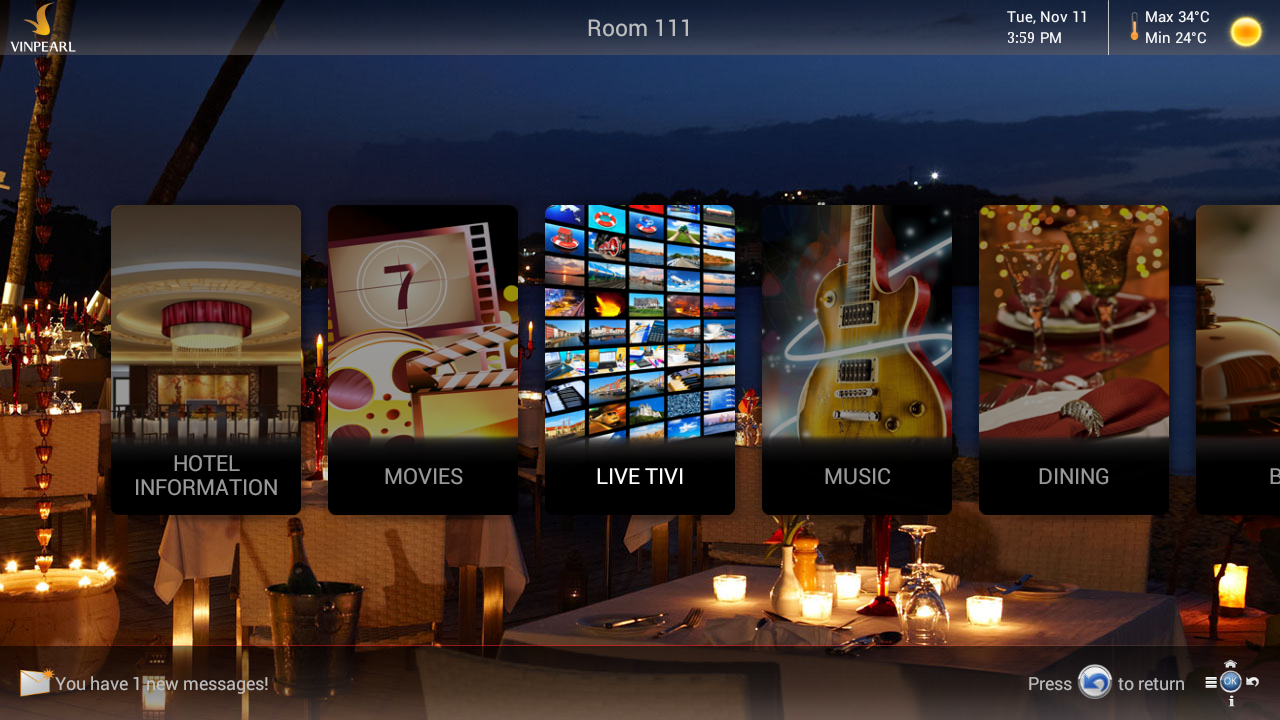 Hotel Information
The Smart Hotel system helps to reduce the cost of traditional form of advertising using leaflets, brochures etc. by broadcasting information directly on in-room TV screens. Guests are instantly informed with new restaurant menus, charity events, parties, conferences… being organized at the hotel/resorts. Hence, it helps to promote the hotel/resort's brand to wide audiences which will have positive impact on the bookings and revenue.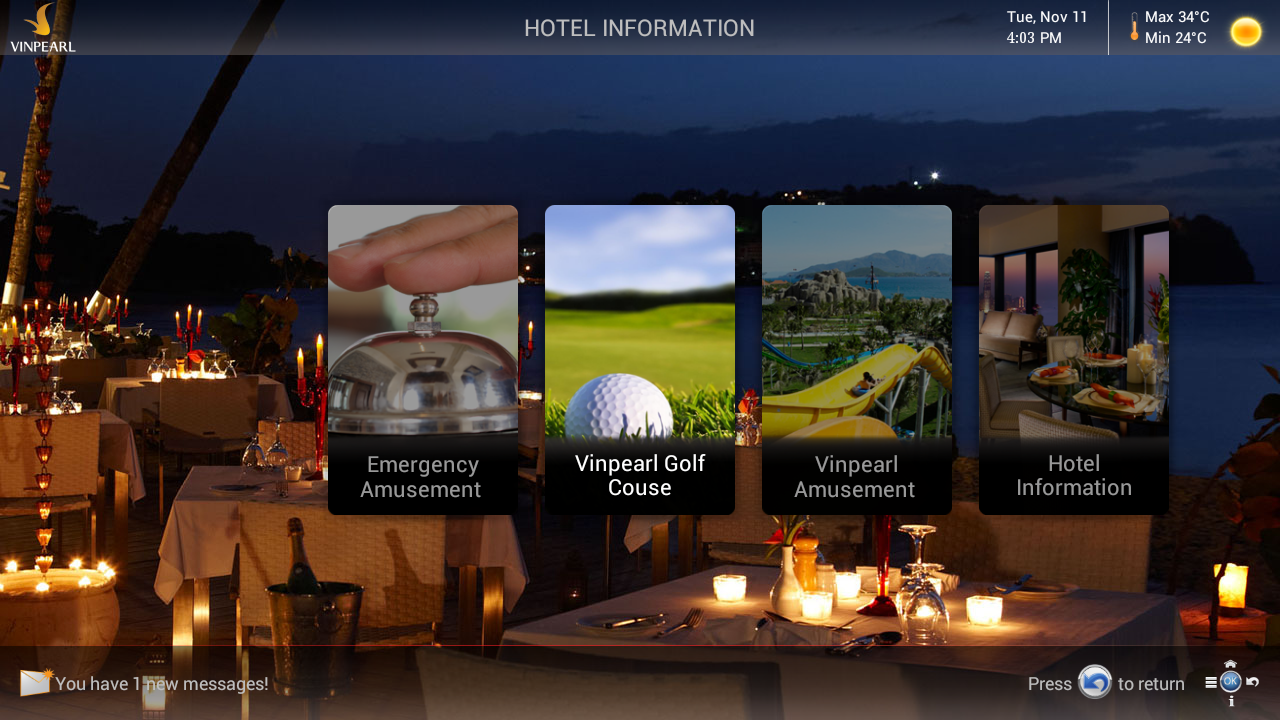 In Room Dining
Provides an innovative channel for the guests to utilize hotel/resort's services and utilities right on the in-room TV screens. Room dining service can be much more satisfying with visual food, drinks and user-friendly ordering system. Restaurant reservations can also be made by hotel guests in their room via on-screen booking system, conveniently after the restaurant's information and menus are presented with just a few interactions on TV.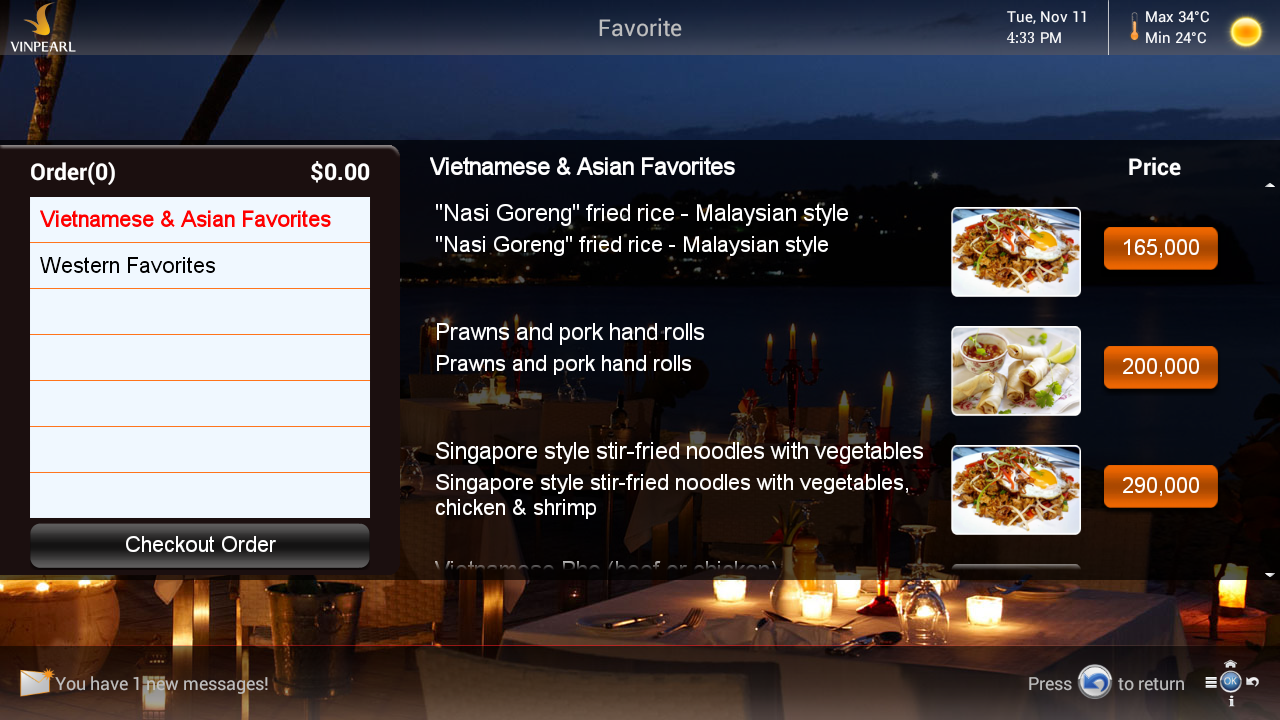 Movies
Delivers VOD entertainment service with full HD quality that satisfies strict guest demands. It offers a huge movie capability arranged in different genres and categories, in which your guests can conveniently search and play their favorite movies. The movie content is continuously updated with latest, hottest and blockbuster movies. The billing system is also supported by Smart Hotel Solution which will boost the hotel revenue generated by VOD service.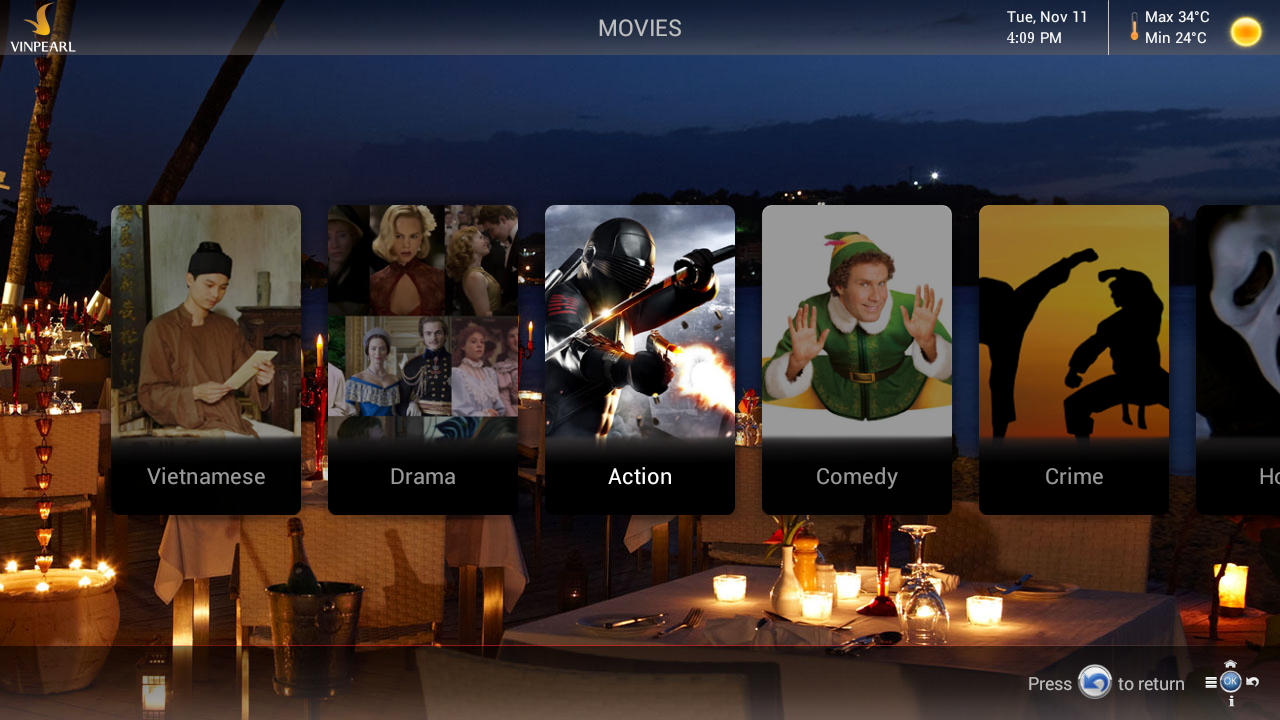 Livetv
As being software development provider, we provide the customer with a variety of suppliers in order to enrich the TV content, meeting different preferences of hotel guests. Smart Hotel's LiveTV offers more than 100 channels including local and international which allow guests to watch their favorite channels while they are travelling. In addition, Smart Hotel supports recording function when guests cannot watch more than one channel at once, so they won't miss their favorite TV programs. Our LiveTV is also equipped with a billing system that will contribute to the revenue stream when needed.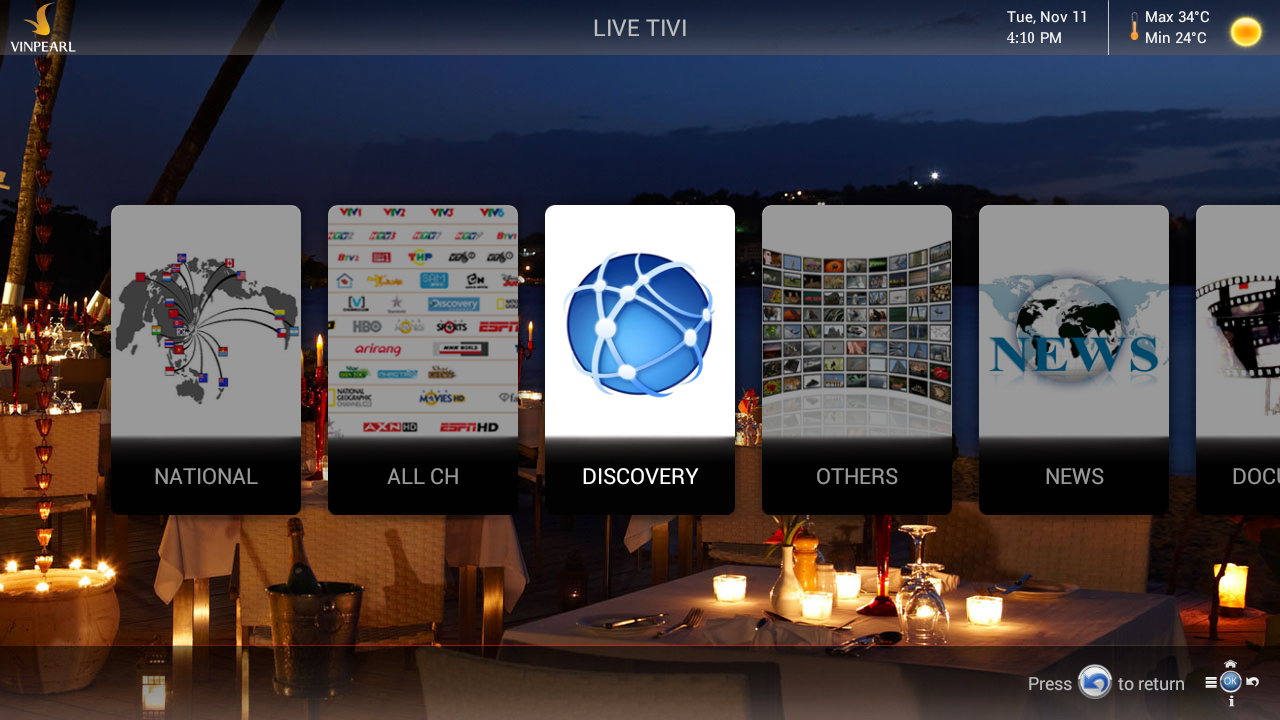 Music
Guests will be impressed by the variety of high quality music collection that meets the demand of even strict guests. The music collection is organized in different genres and categories that allows guests to easily search and play their desired music. New songs are updated continuously, keeping your guests entertained and comfortable.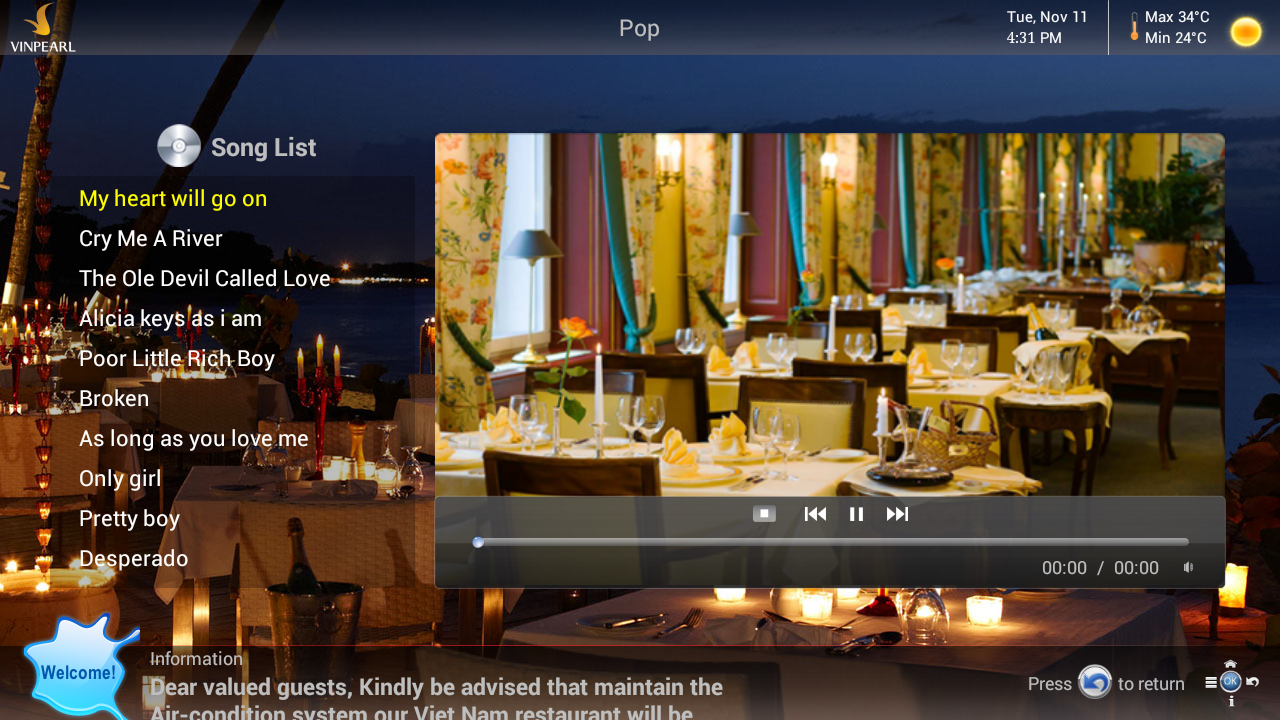 Internet
Guests can check mail, chat, web surfing on the TV simply through the wireless keyboard. They can read News, Youtube, Facebook, Twitter, Skype … right on the TV screen.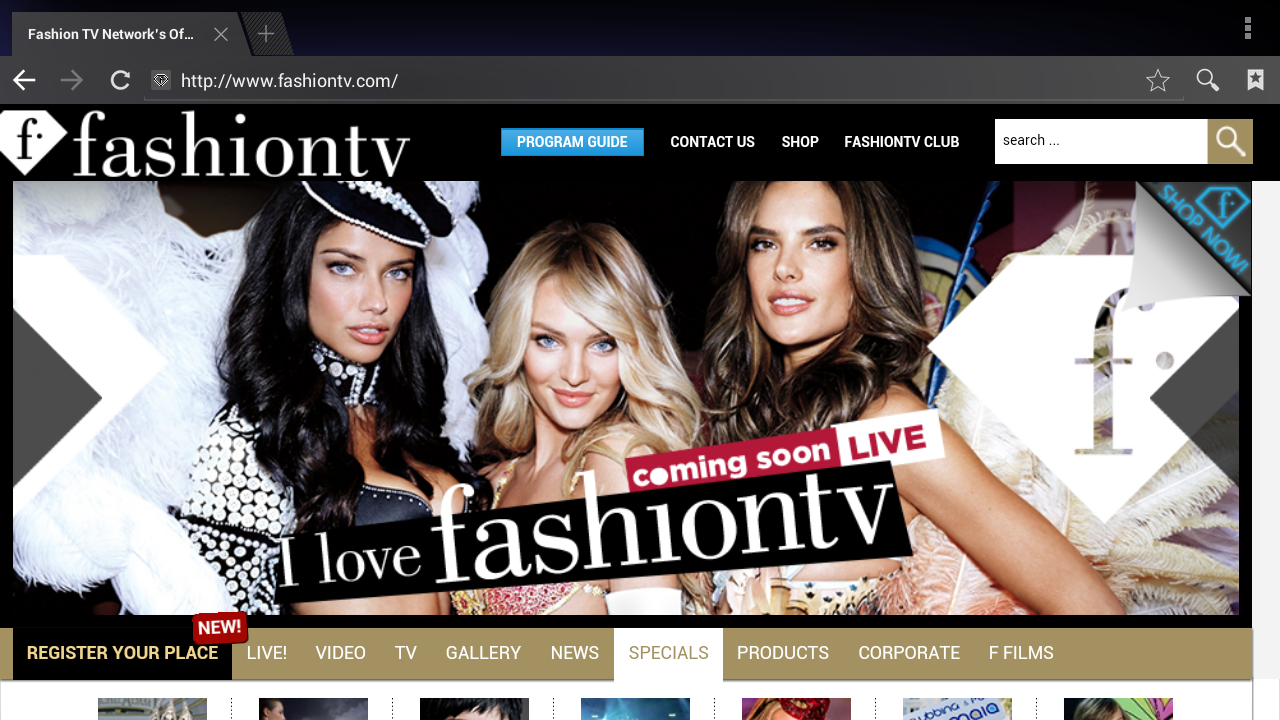 Hotel activities
This screen updates the information about hotel's activities such as sport competitions, special tours, promotional events as well as schedule, location where these activities are organized.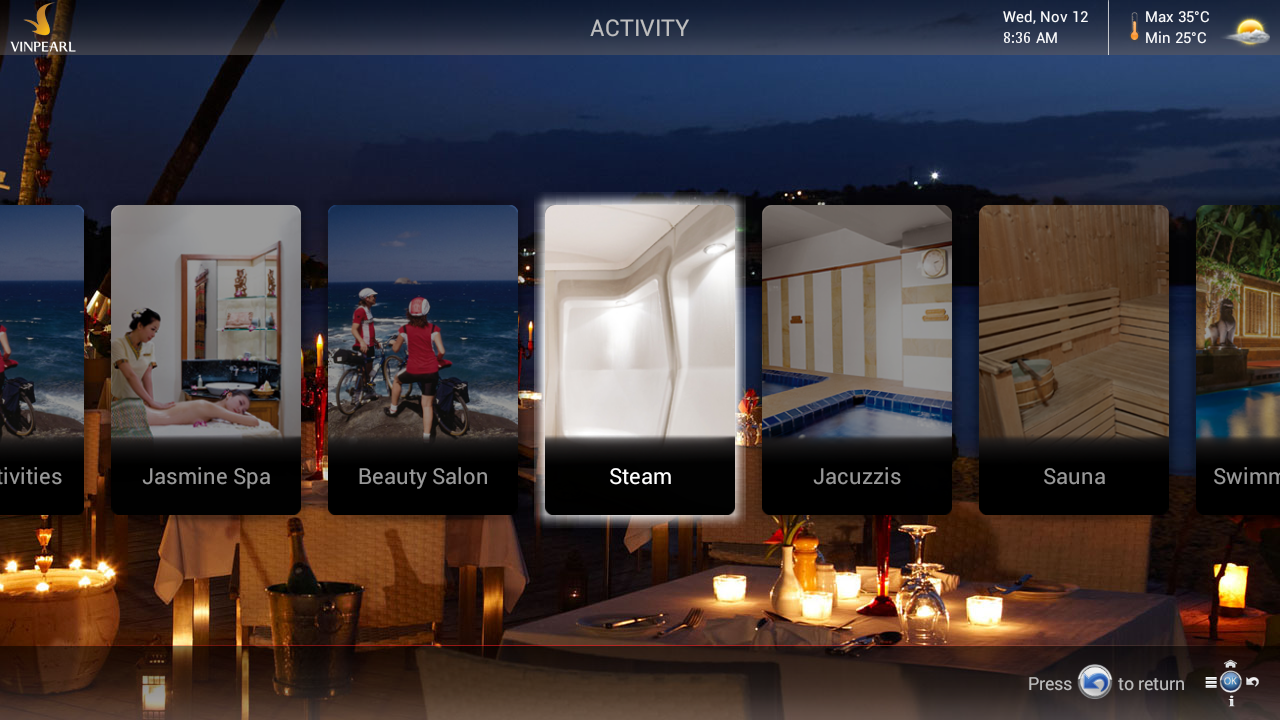 Room services
Altering traditional way, guest can request, book room services right on the TV screen, including room cleaning, substitute bed coverings, add items, laundry, maintaining equipments,….